Kaal Sarp Dosh Calculator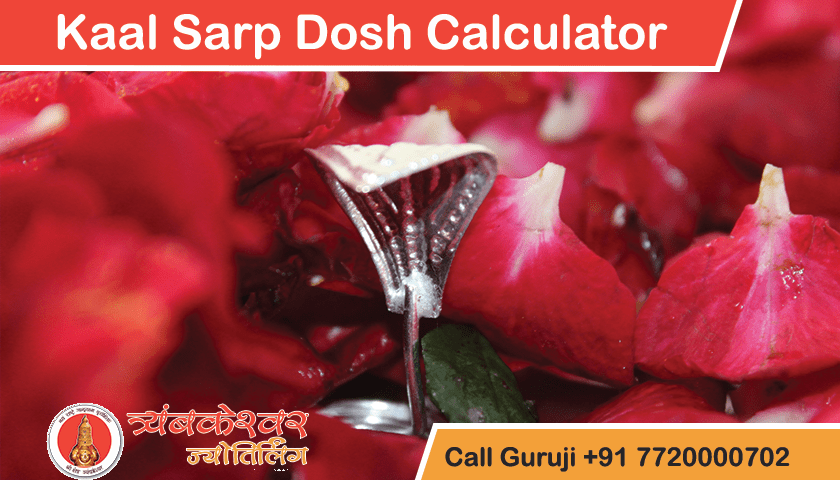 Check Kaal Sarp Dosh Online
Kala sarpa dosha calculator is found on person's date of birth. If the all planets are not among the rahu and ketu. Then there is no kala sarpa dosha.
[]
keyboard_arrow_leftPrevious
Nextkeyboard_arrow_right
What is Kaal Sarp Yog?
This Yoga is built when all the seven considerable planets Sun, Moon, Mercury, Venus, Mars, Jupiter and Saturn are enclosed between the shadow planets Rahu and Ketu. As we know that Rahu and Ketu are 180 degree aside from each other, thus there is a hazard that all the other seven planets can involve the place among these two. Hence, Kaal Sarp Yog takes place.
It is also important to check the degrees of the planets while considering the chart for Kaal Sarp Dosh.
Different types of Kaal Sarp Yog
It is of different types. There are 12 houses in Vedic horoscope i.e Anant, Kulik, Vasuki, Shankhpal, Padam, Maha Padam, Takshak, Karkotak, Shankhnaad, Ghatak, Vishdhar, and Sheshnaag Kaal Sarp Dosha.
Consequences of Kaal Sarp Dosh
It gives misfortune in every form of life. Still, it is not always true. Even though, it may build obstacles in all substances of life like health, wealth, career, profession, love, marriage, children. It is also very necessary to know the exact consequences of Kala Sarpa
Dosha for a person. For that, the correct positioning of shadow planets Rahu and Ketu are noticed in any astrology.
For instance, if Rahu sits in first house and Ketu in seventh house, it may build obstacles for self and also to collect the resources.
Myths about Kaal Sarp Yog
People generally think about it as a bad consolidation or adjustments of planets in their birth charts. Nevertheless, there is nothing specified about this Yog in any of the earlier horoscopic texts. However, this yog is none other than the establishment of the contemporary astrologers. As the passage of time, astrologers form some global adjustments influencing the act of life either negatively or favorably. Accordingly, it can be favorable and unfortunate both, relying upon the other places of the planets in Natal Chart.
Inauspicious Results
A person might have to go with different problems in their life. They may sense death like schemes. A person might have issues like sickness, loss of fame, loss of wealth. A person don't get what they actually get.
There are some issues if a person have inauspicious Kaal Sarp Yog present in your birth chart. It may generate hurdles in auspicious rituals, leads to delay in marriage, progeny or disturbed married life, hurdles in conceiving a child or lag in birth of child and cause extended ailments, calamities to the family member and also loss of mental peace or discord in family and may lag the development at career front, boost in debts and fluctuate the finances.
General Remedies, Upay & Kaal Sarp Dosh Puja
One should amuse Lord Shiva and recite the Mantra of Lord Shiva and gayatri mantra
One should do fasting; accomplish puja and Rudrabhishek to amuse Lord Shiva on Maha Shivratri, Shravan Somvar and Sawan Shivratri
One should go to Lord Shiva temple to give water usually to Shivling also give Bel Patra, plum, fruits, flowers and raw milk on Shivling and chant the Maha Mrityunjaya Mantra to get respite from this yog. It can be the best remedy for a person.
People should feed the Dog. It will be good to keep a dog as pet at home.
Accomplish Kaal Sarp Dosh Puja in Trimbakeshwar.
Auspicious Results
However Kala Sarpa Dosha has its malign impact over a person, but there is one more side of this yoga which also appears. It can be deliberated as advantageous yoga. The conclusions will be beneficial if the similar adjustment is placed in kendra or trikona houses. They may eventually rise over the misfortune. They may hurt originally or at an early part of your life but it blesses you at last.
Hence, you should think positive. The reason being, Kala Sarpa Dosha might take them to the crest of success and they may get what they absolutely get by showing their talent to the outer world.
For performing kal sarp puja in trimbakeshwar and know more about this dosh, kindly contact Ravi Shankar Shastri Guruji on +91 7720000702