Shankhpal Kaal Sarp Yog Positive Effects, Remedies and Benefits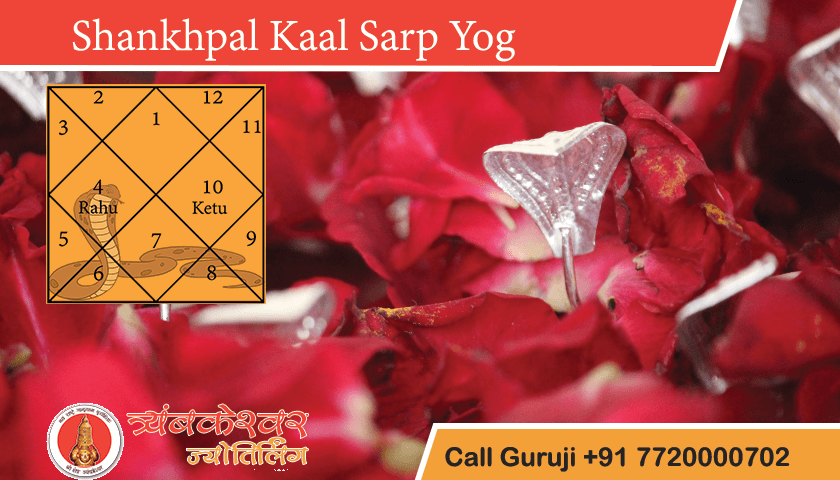 What is Shankhpal Kaal Sarp Yog?
Shankhpal Kaal Sarp Yog is said to be built in horoscope when Rahu is positioned in the fourth house and Ketu is positioned in tenth house and other planets are positioned from the fourth to tenth house.
However, this is one of the most necessary types of kaal sarp dosh as Rahu and Ketu is positioned in the two very necessary houses of the horoscope.
Book Your Puja at Trimbakeshwar Call Now +91 7720000702
Issues caused by Shankhpal Kaal Sarp Yog when built in horoscope:
This Sarp yog can do a severe loss and can cause a severe issue connected to few of the most necessary spheres of a person's life.
The humans with Sankhpal kaal Sarp Dosh in his horoscope endure from mental, Psychological, professional and other issues.
The upbringing of the kids is afflicted and they are absorbed to bad habits and activities like smoking, drinking, gambling, and stealing.
The relatives disturbs the married life .
The native with Sankhpal kaal Sarp Dosh in his horoscope also sees few paranormal dreams and creatures in their dreams.
Shankhpal Kaal Sarp Yog Remedies and Upay:
Remedies for Sankhpal Kaal Sarp Dosh
Remedy for shankpal kaal sarp dosh can give comfort in case of ill impacts in case of mental peace and happiness.
Native should explore blessings from mother on daily basis.
Meanwhile, they should do Jaapa of Mahamrutyunjay mantra for one lakh five thousand times.
Native should do Kaal Sarp Maha Puja of Lord shiva at any of the Jyotirlinga. Also, people should do pooja of Lord Shiva on Naag Panchami, or any Monday in Shukla Paaksh of Shravan month.
Shankhpal kaal sarp dosh effects on marriage:
The married life of such native gets ambiguous and annoying.
Most of the times the married life of the native is disturbed or damaged by the relatives.
Subsequently, the consequence of Sankhpal kaal sarp dosh may take your married life to divorce.
Shankhpal Kaal Sarp Dosh Benefits:
This Kaal Sarp Dosh gives power of consulting huge political success if the person joins politics.
For the person born at midnight i.e. 12 AM the place of Sun will be in the fourth house of the chart that means the fourth house give extreme open house with full of light.
The person can also have a good opportunity to have the biggest position in government jobs.
The starts cannot influence one who worships almighty, his elders and parents.
Shankhpal Kaal Sarp Dosh and its Nivaran:
Person should stay away from cigarettes, drinks, Liquor etc. and mainly on Saturday these all should be averted.
One should not buy old products or take it from anybody.
Don't use black, blue, brown or any dark colored clothes over waist. The person should wear bright color clothes only.
Don't sleep in day; work out early in the morning.
Never make a partner in trade or business, beware of neighbors also.
Shankpal Kaal Sarp Dosh Chart:
The Shankpal Kaal Sarp Yog is in the 4th house and Ketu is in the 10th house.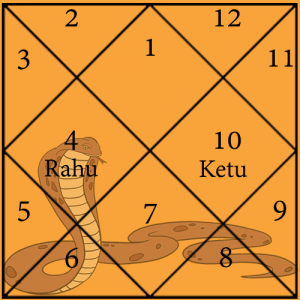 This yoga give bad relationship with mother. The health of mother may be bad. However, a native will have less mental peace and will be vulnerable to anger. He may have few disputes regarding landed property. He will be having vastu dosha in his house. Therefore, individual will be vulnerable to diseases related to heart, chest and lungs.
[]
keyboard_arrow_leftPrevious
Nextkeyboard_arrow_right