Padam Kaal Sarp Yog Positive Effects, Remedies and Benefits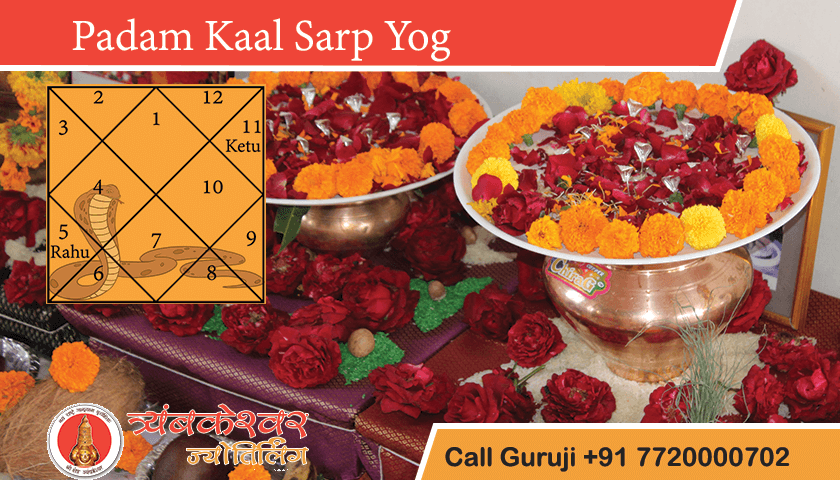 Padam Kaal Sarp Yog?
Padam Kaal Sarp Yog is built in the kundli when rahu is positioned in fifth house of kundli and Ketu is positioned in the eleventh house of the kundli. Also, other planets are positioned in the house varying from fifth to eleventh in kundli.
They are regularly troubled and angst for their children's lives. They might even face problems in conceiving. If they have a distressed moon in their horoscope as well, they will suffer from the effects of spirits. However, chronic illnesses take long to recover and academic obstructions are regular. Also, their friends and family let them down frequently.
Book Your Puja at Trimbakeshwar Call Now +91 7720000702
Issues caused by Padam Kaal Sarp Yog when formed in horoscope:
People face lot of issues Padam Kaal Sarp Yog mostly associated to reproduction, finance, friends and higher education.
They also see issues associated with birth of child due to which they face problems in producing children and appropriately they are likely to have children after many years of their marriage. Such people are seen to produce female child more usually than the male child.
Students face issues in studies. They see trouble from their studies and select wrong education which results in loss of money and time both.
Consequently, the person might enlist in illegal business to earn their livelihood & can become a drug dealer, smuggler, thief or gangster and many more relying upon the strength of the dosh in kundli.
Padam Kaal Sarp Yog Remedies and Upay
Upay to get away from Padma Kaal Sarp Dosh rely upon the strength of the dosh in person's Kundali.
Burn the lamps of mustard oil in front of hanuman on Saturday.
Person should chant hanuman chalisa and bajrangbaan.
Place peacock feather in books.
Person should do Jaapa of Mahamrityunjaya mantra for one lakh five thousand times.
People should do Kaal Sarp maha pooja of Lord Shiva to get away from this Dosh.
Use rudhraskh around neck of 4 faces, 6 faces and 7 faces.
Padam Kaal Sarp Yog effects on marriage:
The person with Padma kaal sarp dosh faces a lot of issues in their married life.
There is issue in birth of a child. They have a child after many years of marriage.
People face trouble in their married life.
If the dosh is very strong they may not have children their entire lives and they may be entirely impoverished of children.
Padam Kaal Sarp Yog Benefits
The place of Rahu and Ketu in the Kundali can assist the native to accomplish huge success in politics.
Hard work and diligence can assist the person to reach the heights of success in life.
Padam Kaal Sarp Yog and its Nivaran
These remedies contain the application of gemstones, yantras, poojas and charities. It decreases the strength of this defect. Therefore, the person witness better or much better results in the spheres of his life. However, it afflicts Padam Kaal Sarp Dosh in his horoscope.
Firstly, the person must not have a love marriage; arrange marriage will be beneficial.
Secondly, be honest with friends, relatives and beloved ones. It decreases the strength of this dosh.
Moreover, people should avert Alcohol and drugs.
Padam Kaal Sarp Yog Chart
Rahu is in the Fifth house of the kundali, Ketu is in Eleventh house.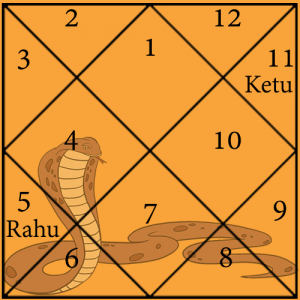 Similarly Mangal is in tenth house, Shani is in the Ningth house. Also, shukra is in Eighth house, Chandrama and Guru is in the Seventh house, Surya and Budh is in the Sixth house of the kundli.
[]
keyboard_arrow_leftPrevious
Nextkeyboard_arrow_right