Rahu Ketu Dosh Nivaran Puja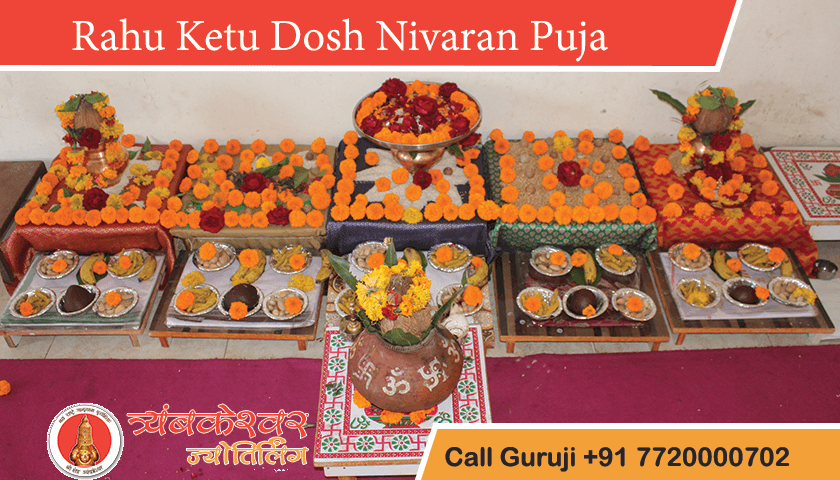 What is Rahu Ketu Dosh
Rahu Dosha appears in one's Kundali when, each of the planets in a person's chart come in between Rahu, the snake's head, and Ketu, the dragon's tail. The presence of Rahu Dosha has negative impacts on every one of the planets in your chart. It is surrounded by the serpent and loses all their positive effects to a great extent. It makes an individual highly unlucky. Troubles surround them. Hence, there is a delay in important aspects of their life. Thus, a person goes through sufferings and pain for the entire duration of their life.
Rahu and ketu dosha
Ketu is termed as the dragon's tail and Rahu is termed as the dragon's head. Therefore, these two are called as a shadow or hypothetical planets between the nine planets ruling the world of horoscope. Although, the consequences of Ketu on a person's life are very critical as Ketu rules some necessary form of the astrology.
Book Your Puja at Trimbakeshwar Call Now +91 7720000702
The ketu dosha
In a person's astrology, Ketu rules form containing the effects of past acts, indifference, religious bent of mind, disconnection, after life, an astral life of the person and near death experience.
Ketu is also known as the south node of the moon. It stays in each zodiac sign for about 1.5 years. To thorough the complete zodiac cycle, Ketu takes about 18 years. It always moves in a retrograde direction. It gives beneficent results when placed in houses comprises of 1st, 3rd, 6th, and 12th and govern circulating diseases and rules the ailments begin in the food and body.
Therefore, ketu gives beneficent results to those born in the zodiac signs including Aries, Cancer, Scorpio, Sagittarius, and Pisces.
Ketu positioned in Pisces can give the perfect knowledge to the person.
The rahu dosha
Rahu is also an unfortunate planet like Saturn. Rahu may cause many issues for the person who has it in an unfortunate position in the kundali. The best remedial way to cool Rahu is to give iron weapons, blue clothes, blankets, iron sheets, sesame seeds, mustard oil, electrical equipment, coconut and radish. The person suffering from ill-effects of Rahu can give red colored cereals to workers. The best way to tame the planet is to give the gemstone related with it.
Rahu gets raised in houses 3 and 6, whereas he gets insecure in houses 8, 9 and 11. 12th house is his 'Pakka Ghar'. He confirms highly advantageous in houses 3, 4 and 6. Saturn, Mercury and Ketu are his friends, whereas Sun, Mars and Venus are his rivals. Jupiter and moon are impartial to him.
Home remedies for Rahu Ketu dosha
There are many remedies that one can do at their home to decrease the results of Rahu Ketu dosha.
Firstly, you should give sweets to orphans and displaced children to curtail the negativism of Ketu.
Secondly, you need to recite Shiv Panchakshar mantra "Om Namah Shivaya" for 108 times daily.
Furthermore, you should give belpatra, fruits, raw milk and water to Shivling in Lord Shiva temple.
One can also chant Dosh nivaran mantra 108 times regularly on daily basis.
You should regularly explore blessings of Lord Shiva.
Visit a nearby Lord Shiva temple daily and give water.
You can use or keep a nivaran yantra or rudraksha mala.
You can accomplish the kaal sarp puja and recite particular mantras for 21 ensuing days.
A person should wear a nivaran ring made of silver.
They can do Rudraabhishek.
They may give a cobra or Naga Snake made of copper or gold to any Lord Shiva temple.
You can do rahu ketu puja in Trimbakeshwar temple, Andhra Pradesh. This Puja can be done in many other temples.
Eat in the kitchen as much as achievable.
Do Jaap for Rahu and Ketu separately.
In clothing and jewelry people cannot wear red and coral colors for puja.
Giving regular plaid blankets to the needy, homeless and underprivileged is one of the most powerful remedies for Rahu & Ketu dosha.
Donating mustard oil works marvelous to reversal the malign consequences.
If somebody is born under the malign effect of Ketu should also take care of dogs and give shelter to street dogs.
People cannot wear black clothes.
Yellow and white are two favorable colors for Ketu.
[]
keyboard_arrow_leftPrevious
Nextkeyboard_arrow_right