Karkotak Kaal Sarp Yog Positive Effects, Remedies and Benefits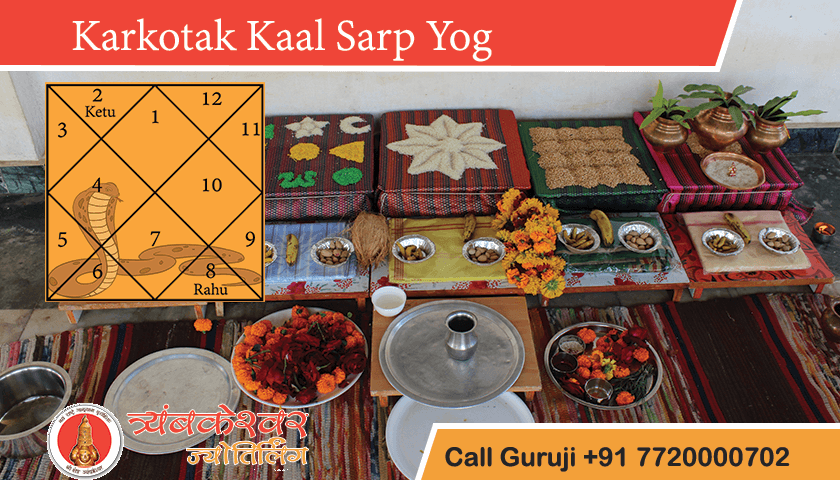 What is Karkotak Kaal Sarp Yog?
Karkotak Kaal sarp yog is said to be built in one's horoscope,Rahu and Ketu when Rahu is placed in the eighth and Ketu is placed in the second house of the horoscope. Such people are quick calm and make a lot of enemies. They also have love for antisocial elements. They lose out on ancestral money and are prone to sexually transmitted ailments.
However, other planets are in the house ranging from the eighth to second.
Problems caused by Karkotak Kaal sarp yog when built in horoscope:
A Native face many variety of issues in this Kaal sarpa dosh. People face issues related to health, marriage, family and many other issues.
Some of them may not get proper concentration and care from their parents and loved ones.
A person faces issues in education. The bad company of friends affects it.
The person gets absorbed to bad habits and are not good for health and can cause careful health problems.
There is a possibility of loss of money due to theft, car accident and hospital bills. People face these kinds of serious issues.
Causes and Influences:
Karkotak Kaal sarp Dosh affects the family relationship of a person to a great extent. Difference in opinion always abounds with relatives. Lack of mutual coordination generally leads to backstabbing and fraud from family members. Many a times the native faces situations where nearly completed works are destroyed. Heavy financial losses are inflicted. The native is rendered helpless from all directions. Family and livelihood of the native are interrupted from time to time.
The chances of accidents and The relative place of Rahu and Ketu to cause Karkotak Kaal sarp Dosh is such that Rahu involve the eighth house. It is also called the house of rebirth or regeneration and Ketu involve the second house. It is the house of wealth and possessions. The other planets encircle between themselves among these two houses. Quite naturally, it affects a person's income and his personal life to a great level.
various health issues boost. Moreover, women suffering from this dosh generally complaint about their maternity issues. There is delay in bearing child being common among those complaints. However, conspiracy among the trusted people is something one needs to look out for. It might be a reason for a complete destruction of one's personal and professional life.
Book Your Puja at Trimbakeshwar Call Now +91 7720000702
Karkotak Kaal sarp yog Remedies and Upay
Remedies for Karkotak Kaal Sarpa Dosh:
A person should wear energized shivayantra around the neck on Saturday.
They should feed Bundi ladoos to ants for 27 days starting from Saturday.
Give coconut or raw coal in holy water on Friday.
People should chant mahamrutunjay and rudra abhishek at home.
Karkotak kaal sarp yog Effects on marriage:
Delay in marriage is what happens mostly with native of this Kaal sarpa dosh.
Relying upon the strength of dosh, issues can occur after marriage in person's life. It can lead to divorce.
Moreover, the person has extramarital affairs. It can come in contact with the sex workers to amuse their sexual need.
Karkotak Kaal Sarp Yog Benefits
In this regard, reciting the MahaMrutyunjaya Mantra with belief. The adherence will work great wonders.
The baseline of all sadhana and yoga practices are self-disciplining and pleasing the divine.
Karkotak Kaal Sarp Yog and its Nivaran
Firstly, remedy contains Jaap of mahamritunjaya mantra for one lakh Thirty-five thousand (1, 35,000) times. People should do Kaal sarp mahapooja of Lord Shiva to finish this dosh.
Secondly, the native should not purchase vehicle on his/her own name. They should be safe while driving.
Further, the person should not be in partnership with trade or business and should keep distance.
Moreover, they should be away from unhealthy food and also bad habits like liquor or smokes.
Karkotak Kaal Sarp Yog Chart
Rahu is in the eighth house while Ketu is in the second house of the horoscope.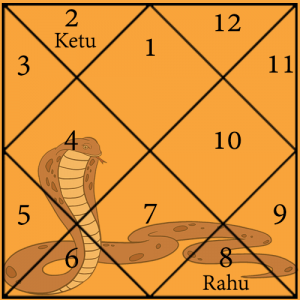 Therefore, Shukra is in the first house and Shani is in twelfth. However, chandra and Surya are in the tenth house, Guru mangal in eleventh house and Budh is in ninth house.
[]
keyboard_arrow_leftPrevious
Nextkeyboard_arrow_right