Kaal Sarp Dosh Effect on Marriage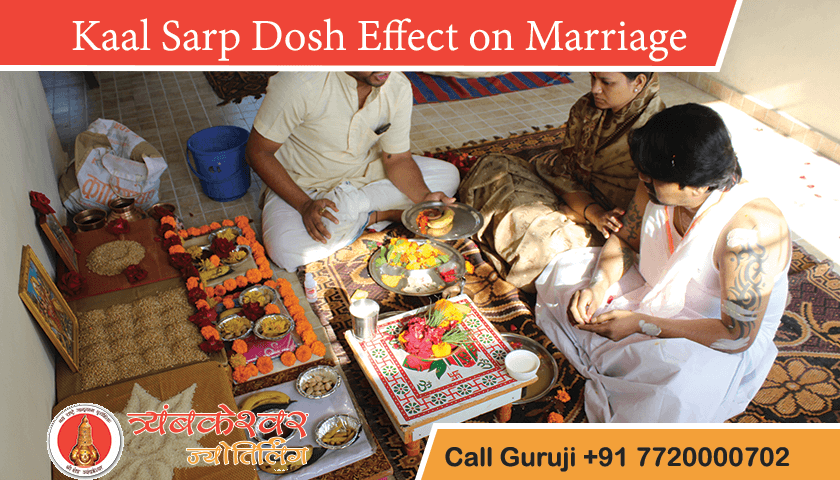 Kaal Sarp Dosh effect on marriage
When all seven planets are displayed between Rahu and Ketu, Kaal Sarp dosh is developed . As we already know that the place of Rahu & ketu in chart is consistently in front of each other. It means if rahu is positioned in 1st house, ketu will be 7th house. Thus there are the chances in any chart to place rest of the planets in between Rahu and ketu. Thus, it is called Kaal sarp dosh effect. It is very necessary to contemplate the degrees of the planets positioned with Rahu or ketu.
Book Your Puja at Trimbakeshwar Call Now +91 7720000702
Kaal sarp dosh effects
A person having Kalsarp yog in his astrology deteriorate lots of sufferings and worry during his life. In spite of his hard work, commitment, and faithfulness he is not able to attain what he want. There are some of the consequences of this dosh. Problem in kundali matching for marriage, lag in child-birth or problems in conceiving the child, not satisfied with the career life in spite of hard work and commitment, many ups and downs in the financial condition, prolonged disease in the family or unexpected accidents, disputes in the family, unexpected death in the family and sorrowful and unstable life.
Kaal sarp dosh effects on marriage
Kaal sarp dosh can have many distressing consequences in one's life. From money and fitness to an annoying marriage, kaal sarp yog effects the most necessary condition of one's life. This makes it a ordeal for many.
The kaal sarp yog effects on marriage develops when Rahu is there in the 1st House and Ketu is there in the 7th House. The rest of the planets are there to the left side of the axis.
The sarp dosh effects make a depressed married life and some financial gains. This dosh has major consequences on married couples. It creates many difficulties and stress between them leading to a difficult marriage.
It is for this purpose, that many couples like to do a Kaal Sarp dosh to escape any troubles in their marriage.
Good effects of kaal sarp yog
Just like the consequences of kaal sarp yog which can also do well for a human in similar consequences of Rahu and Ketu in shape of KalSarpa Yog is also not bad for all.
A person can love big achievement in life if Rahu placed in the chart is healthy. It can give gain in the life of the person. Advantages of Kaal Sarp Yog in astrology include: It makes a native greatly devoted towards any actions he or she does and the person adventurous and bold in life to take up any hazard to earn success . The person makes healthy effort to control the frailty they had in life
Kalsarpa yoga and marriage
At its worse, KalSarp yog has the capability to damage your marital life along with rest of the elements. A person's love will go for a hurl; there will be misinterpretations distrust, uncertainty, brawl, and spiritual tension on either one or both the persons at the receiving end of the connection.
The kala sarpa yoga effects on marriage also comprises of issues in physical relationship and issues in connection with children.
Sarpa dosha and marriage
The sarpa dosha effects can be everted by operating a KalSarp yog nivaran puja in the city of Trimbak, near Nashik City. It helps in pleasing Lord Shiva.
This puja has been helping the sufferer of KalSarp dosh to get rid and inverted the consequences of kalsarp dosh. Apart from a dosh nivaran puja, there are few customs that have helped humans get rid of the dosh. Also kaal Sarp Dosh can abondon your marriage on a finish. If a person feels that kalsarp is the cause for their failing marriage, and if a person needs any help to fathom their married life, Ravi Shankar Guruji on 7720000702 can help you arrange a Kaal Sarp Puja at Trimbakeshwar Temple so that you can relish your married life without any dosh obscuring over it.
[]
keyboard_arrow_leftPrevious
Nextkeyboard_arrow_right